South Shore Kiwanis Club was chartered in 1958 and is a thriving organization of service-minded people who respond to the unique needs of our communities and address local issues by "Serving the Children of Staten Island."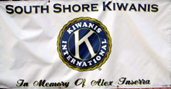 Club Officers


President
Gerald Burt
Vice President
Tom Beyar
Treasurer
Sam Palazollo
Secretary
Christopher Rubano
Thank you for your support!



Guided by six permanent Objects , Kiwanis clubs view their role within their respective communities with a great deal of foresight. Key aspects to operating an effective club include:
Evaluating both children's issues and community needs on an ongoing basis

Conducting service projects to respond to those identified needs

Maintaining an active membership roster of professional business people who have both the desire and the ability to serve their community


Club meetings traditionally are conducted once a week and offer an atmosphere of fun, learning, and fellowship. In addition to attending the meetings, the typical Kiwanian volunteers each month to assist with club service projects.
Meetings are held every Tuesday at LaFontana - 2879 Amboy Road - Staten Island, NY 10306-2007 - (718) 667-4343 from 7:30 PM to 9:00 PM.

Join or volunteer with a Kiwanis club in your community today! There are Kiwanis clubs that meet for breakfast, brunch, lunch, dinner, weekend times, or via the Internet in virtual clubs
Membership application for new club members.

Membership Information Form - used to provide Kiwanis International necessary information about new members.

NOTE: Applications require Adobe Acrobat Reader 5.0 or better. If you do not have this free program or if you have a previous version installed, download the newest version, then install it.

Kiwanis Name
The name "Kiwanis" means "we trade" or "we share our talents." It was coined from an American Indian expression, Nunc Kee-wanis.

Service projects often are linked to the Kiwanis program, "Young Children: Priority One." This initiative places continuing focus on the needs of children in pediatric trauma, safety, child care, early development, infant health, nutrition, and parenting skills.
Service projects also can address other needs within the community, such as working to stop substance abuse, helping the elderly, promoting literacy, supporting youth sports and recreation, responding to disasters, and supporting specific persons in need.


South Shore Kiwanis

Club Members